Wolves Activities for the Week:2/1- Nothing2/2-HS(BBB) Home vs Sidney 4,5:30,7pm     HS(GBB) @ Sidney 4,5:30,7pm2/3- Nothing2/4-HS(WR) @ Miles City TBD2/5- HS(BBB/GBB) Home vs Baker 12,1:30, 3,4:30,6,7:30(Games may start early,rolling schedule)       HS(WR) @ Glasgow 5pm2/6-HS(BBB/GBB) @ Poplar 3:30, 5, 6:30, 8pm "Good is not good when better is expected."– Vin Scully

Mon(1/25)- NothingTues(1/26)-HS Basketball with Sidney(Cancelled)Wed(1/27)-NothingThurs(1/28)-Wolves HS Wrestling Mixer Home 6pmHS (GBB/BBB) @ Dodson(Cancelled)JH Basketball @ Scobey 4/5:30pmFriday(1/29) HS(BBB/GBB) @ GlasgowC-boys-12pmC-Girls-1:30pmJV- Boys- 3pmJV-Girls-4:30pmV-Boys-6pmV-Girls-7:30pmSat(1/29)- AdditionsHS(GBB/BBB) JV Wolves vs Frazer 10/11:30am "Do you know what my favorite part of the game is? The opportunity to play.– Mike Singletary Go Wolves!!!

Chelysa Owens-Cyr is an alumni of Wolf Point High School. She graduated with the class of 2017.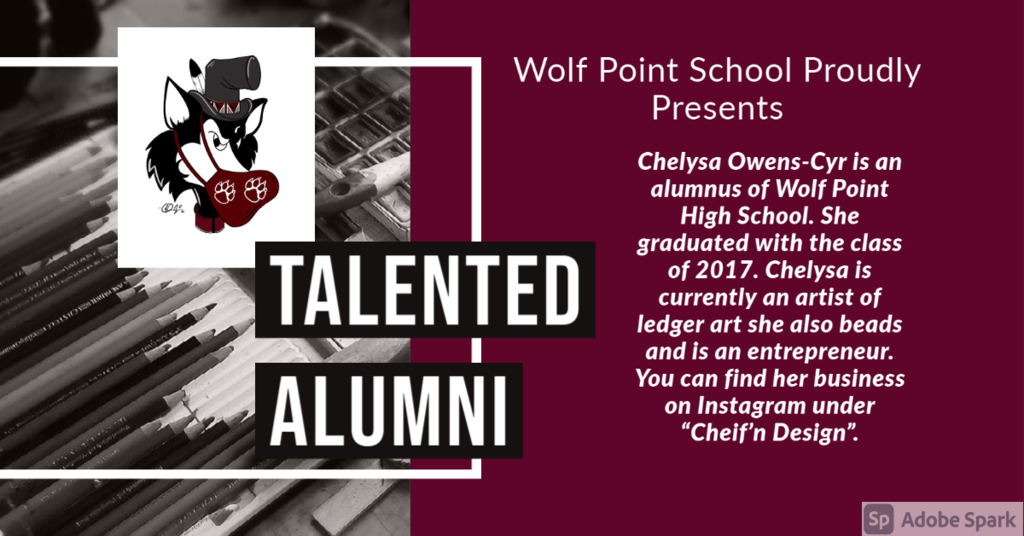 Wolf Point Annual Spelling Bee Jan. 28th, 2021 @1:00pm HS Auditorium

Tomorrow's Wp/Malta HS basketball games have been postponed.

The WP/Poplar Basketball games for Friday(1/22) has been postponed to a later date!!!

The Wolf Point School district will no longer accept elementary students who have been opted out to enroll, the 3rd quarter re-registration is now closed for safety. The dates to re-register for the 4th quarter will be March 10-24th. Plan accordingly.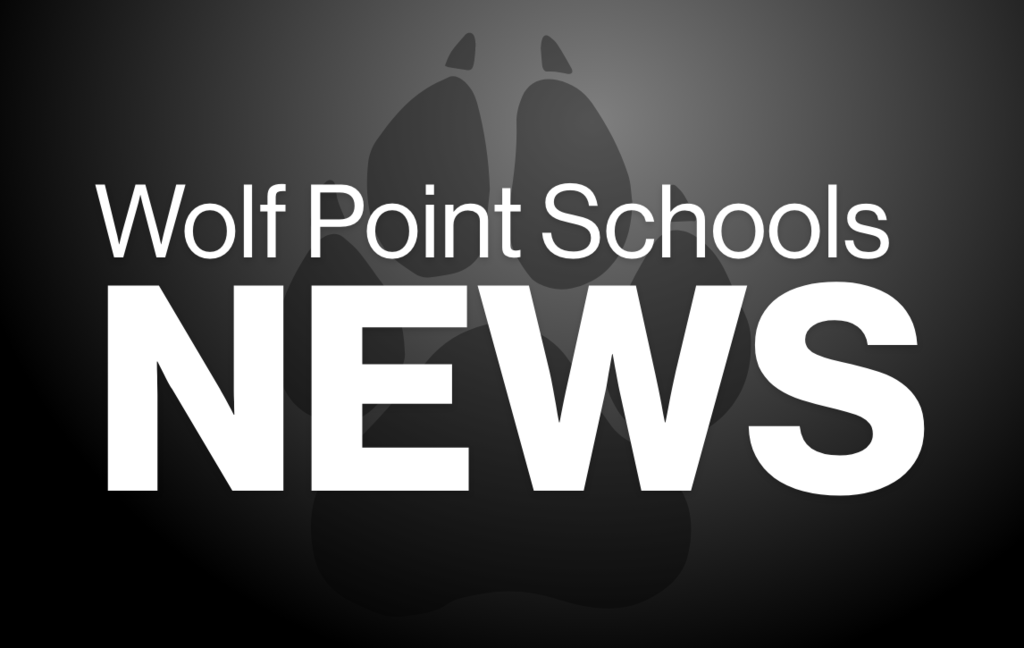 Wolves time changes for the weeK; 1/22 HS(BBB/GBB) @ Poplar 3pm- JV boys, 4:30pm- JV girls, 6pm -V boys, 7:30pm V -girls. 1/23 HS(BBB/GBB) Home vs Malta 1:30pm- C boys, 3pm JV-Boys,4:30pm JV-girls, 6pm V boys, 7:30 V girls.

Wolves Activities for the Week(1/18-1/23): Mon- JH Basketball @ Poplar 5pm Tues- HS(JV GBB/BBB) @ Frazer 5:30/7pm Wed- Nothing Thurs-Nothing Fri- HS(BBB/GBB) @ Poplar 3:30, 5:00, Varsity Boys 6:30, Varsity Girls 8pm HS (WR) @ Colstrip 5pm Sat-HS(BBB/GBB) Home vs Malta 12pm,1:30pm 3:00p,4:30, Varsity Boys 6pm, Varsity Girls 7:30pm(Games will stay on Schedule) HS Virtual District Speech/Debate "Persistence can change failure into extraordinary achievement.– Marv Levy Go Wolves!!!!

Schedule Addition: 1/19- HS(GBB/BBB) JV @ Frazer!! 5:30/7pm #wolvesontheprowl

Activities Picture Day is Tomorrow @ 10am! Prices are as follows: Package A- $15 Package B- $25 Extras- $10 Checks Payable to : Jay Cummins. Thank you Right Track Photography for always taking great pictures!!

Per Scobey School District, Everyone is welcome, please enter through the Southside Entrance!!

JH Boys basketball cancelled @ Harlem Sat(1/16) Line-up for HS Basketball @ Scobey Sat(1/16): 1pm C boys 2:30pm JV girls 4:00pm JV Boys 5:30pm Varsity Girls 7pm Varsity boys

Per the Glendive School District, 2 tickets per athlete. Tickets will be given out for the boys @ tonight's practice. #wolvesontheprowl

Speech/Debate results from the weekend:-Angelica Sutton place 4th out 17 competitors-Del Eymard  12th out of 21 competitors-Daniel Sears 3rd out 23 competitors Great Job Wolves Speech/debate!!

Wolves Activities 1/11-1/16: Mon- Nothing Tues- HS(Basketball)Glendive @ Wp(Girls) 4,5:30,7pm. HS(Basketball) Wp @ Glendive(Boys)4,5:30, 7pm. Wed- Nothing. Thurs- End of 1st Semester. Fri- Team pictures 10am. Saturday-HS(Basketball GBB/BBB) 1,2:30, 4, 5:30,7pm. JH(Boys Basketball) @ Harlem 11am. Speech/Debate virtual meet TBD Perfection is not attainable, but if we chase perfection we can catch excellence- Vince Lombardi Go Wolves!!

2. 59-48 Baker over Wp(Boys). A lot of positives from the night.

1. 55-50 Baker defeat Wp( Girls) A lot of great things to come!!

-Wolves Wrestling Friday @ Forsyth(1/8): Weight In's @ 12pm, Wrestling @1pm!! -Speech and Debate virtual meet(Three Forks)(1/9): Time- TBD!! -HS(WR) @ Baker 1pm!! 12pm Weigh In's!! #wolvesontheprowl

Shout out to HPDP and Rez Cast radio for working with our students to make videos for Covid Awareness.