The Wolf Point School district will no longer accept elementary students who have been opted out to enroll, the 3rd quarter re-registration is now closed for safety. The dates to re-register for the 4th quarter will be March 10-24th. Plan accordingly.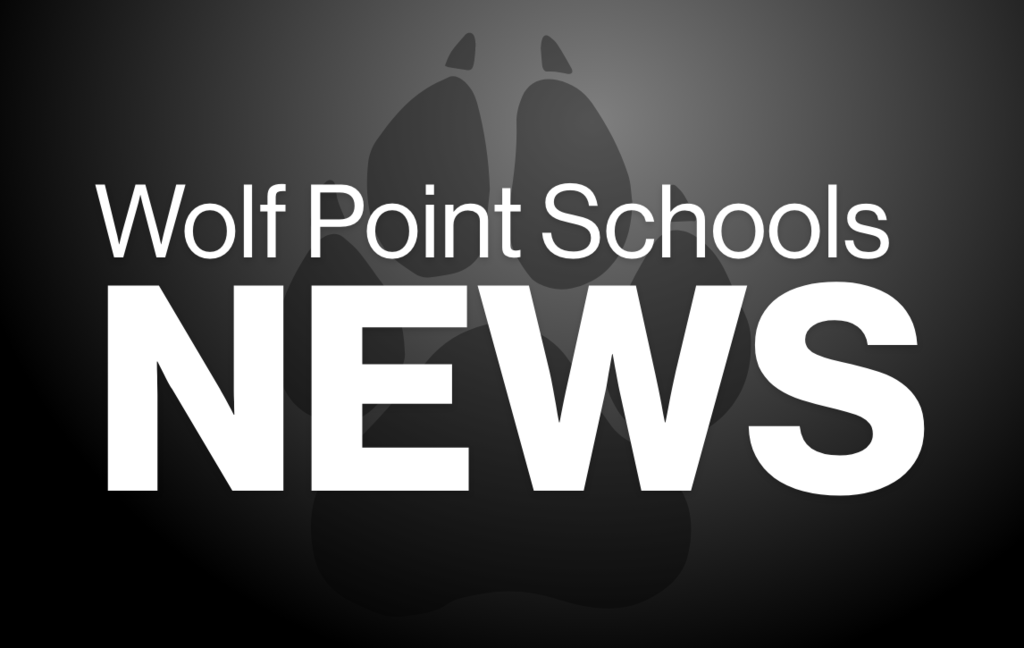 Wolves time changes for the weeK; 1/22 HS(BBB/GBB) @ Poplar 3pm- JV boys, 4:30pm- JV girls, 6pm -V boys, 7:30pm V -girls. 1/23 HS(BBB/GBB) Home vs Malta 1:30pm- C boys, 3pm JV-Boys,4:30pm JV-girls, 6pm V boys, 7:30 V girls.

Wolves Activities for the Week(1/18-1/23): Mon- JH Basketball @ Poplar 5pm Tues- HS(JV GBB/BBB) @ Frazer 5:30/7pm Wed- Nothing Thurs-Nothing Fri- HS(BBB/GBB) @ Poplar 3:30, 5:00, Varsity Boys 6:30, Varsity Girls 8pm HS (WR) @ Colstrip 5pm Sat-HS(BBB/GBB) Home vs Malta 12pm,1:30pm 3:00p,4:30, Varsity Boys 6pm, Varsity Girls 7:30pm(Games will stay on Schedule) HS Virtual District Speech/Debate "Persistence can change failure into extraordinary achievement.– Marv Levy Go Wolves!!!!

Schedule Addition: 1/19- HS(GBB/BBB) JV @ Frazer!! 5:30/7pm #wolvesontheprowl

Activities Picture Day is Tomorrow @ 10am! Prices are as follows: Package A- $15 Package B- $25 Extras- $10 Checks Payable to : Jay Cummins. Thank you Right Track Photography for always taking great pictures!!

Per Scobey School District, Everyone is welcome, please enter through the Southside Entrance!!

JH Boys basketball cancelled @ Harlem Sat(1/16) Line-up for HS Basketball @ Scobey Sat(1/16): 1pm C boys 2:30pm JV girls 4:00pm JV Boys 5:30pm Varsity Girls 7pm Varsity boys

Per the Glendive School District, 2 tickets per athlete. Tickets will be given out for the boys @ tonight's practice. #wolvesontheprowl

Speech/Debate results from the weekend:-Angelica Sutton place 4th out 17 competitors-Del Eymard  12th out of 21 competitors-Daniel Sears 3rd out 23 competitors Great Job Wolves Speech/debate!!

Wolves Activities 1/11-1/16: Mon- Nothing Tues- HS(Basketball)Glendive @ Wp(Girls) 4,5:30,7pm. HS(Basketball) Wp @ Glendive(Boys)4,5:30, 7pm. Wed- Nothing. Thurs- End of 1st Semester. Fri- Team pictures 10am. Saturday-HS(Basketball GBB/BBB) 1,2:30, 4, 5:30,7pm. JH(Boys Basketball) @ Harlem 11am. Speech/Debate virtual meet TBD Perfection is not attainable, but if we chase perfection we can catch excellence- Vince Lombardi Go Wolves!!

2. 59-48 Baker over Wp(Boys). A lot of positives from the night.

1. 55-50 Baker defeat Wp( Girls) A lot of great things to come!!

-Wolves Wrestling Friday @ Forsyth(1/8): Weight In's @ 12pm, Wrestling @1pm!! -Speech and Debate virtual meet(Three Forks)(1/9): Time- TBD!! -HS(WR) @ Baker 1pm!! 12pm Weigh In's!! #wolvesontheprowl

Shout out to HPDP and Rez Cast radio for working with our students to make videos for Covid Awareness.


(HS) Basketball agenda for Baker(1/8): @ HS GYM—G's C-2:00, JV 3:30, Var 5:30 – B's Var 7:00 @ Longfellow Gym—B's-C-2:00 , JV 3:30 (HS) Basketball agenda for Harlem(1/9): JV- boys 1:00pm, JV-Girls 2:30pm V -Boy 4:00pm V- Girls 5:30pm #wolvesontheprowl

Per Baker School District, 2 spectators allowed per athlete. Per Harlem School District, No Spectators allowed. Schedule Announcement: Boys basketball plays 1st(Unless noted).

Wolves Activities for the week: Mon(1/4)-HS (WR) Home Mixer 6pm Tue(1/5)- Nothing Wed(1/6)-Nothing Thurs(1/7)-Nothing Fri(1/8)-HS(BBB/GBB) @ Baker 1pm. HS(WR) @ Forsyth 1pm. JH(BB) @ Malta 4pm. Sat(1/9)-HS(BBB/GBB) @ Harlem 1pm. HS(WR) @ Baker 1pm. JH(BB) Home vs Glasgow 9am. The difference between a successful person and others, not lack of strength not lack of knowledge, but rather lack of will!- Vince Lombardi WOLVES ON THE PROWL!!!!! --

WOLVES FANS, Live stream option for all winter sports, starting today. Subscription required $10.99 a month. Go to our website for log in information at
www.wolfpointschools.org
. On-site fans, please mask up for safety, enjoy the games. NFHS Network Watch Your School's Events Live Live Events January 2, 2021 Your school will be LIVE on the NFHS Network today. Make sure to promote the broadcast to your fans: Here are the links to watch your events today on the NFHS Network: WOLF POINT HIGH SCHOOL | Wolf Point, MT Boys Junior varsity Basketball vs Dodson | 4:30 PM Mountain Girls Varsity Basketball vs Dodson | 5:30 PM Mountain Boys Varsity Basketball vs Dodson | 7:00 PM Mountain Have questions? Contact customer support
customersupport@nfhsnetwork.com
This email was sent by NFHS Network. Not a fan? Unsubscribe NFHS Network | 2990 Brandywine Rd Suite 300 | Atlanta, GA 30341

Sat(1/2) 6pm- Varsity Girls vs Dodson. 7:30pm-Varsity Boys vs Dodson. #wolvesontheprowl