Lifetouch classroom pictures will be March 2 starting at 8:30 a.m. Dress to impress and purchase your memorable photo.

Due to a warning from Roosevelt County Sheriff's Office, the Wolf Point School District has implemented an instructional lockdown for the safety of our students. Students are safe and learning in the classrooms with limited movement through the building. At this time, building access is limited to WPSD employees only. Students will be released at dismissal. If you have questions please contact each school office; Southside-406 653-1480, Northside (406) 653-1653 & Junior High High School (406) 653-3104 District Office (406) 653-2361. Loverty Erickson, Superintendent

Good afternoon all, Please find attached some opportunities to participate in the Youth Mental Health First Aid Training. It is free to participants. Please register as time and space is limited and PLEASE SHARE to anyone you think would be interested! Thank you in advance for your time and consideration!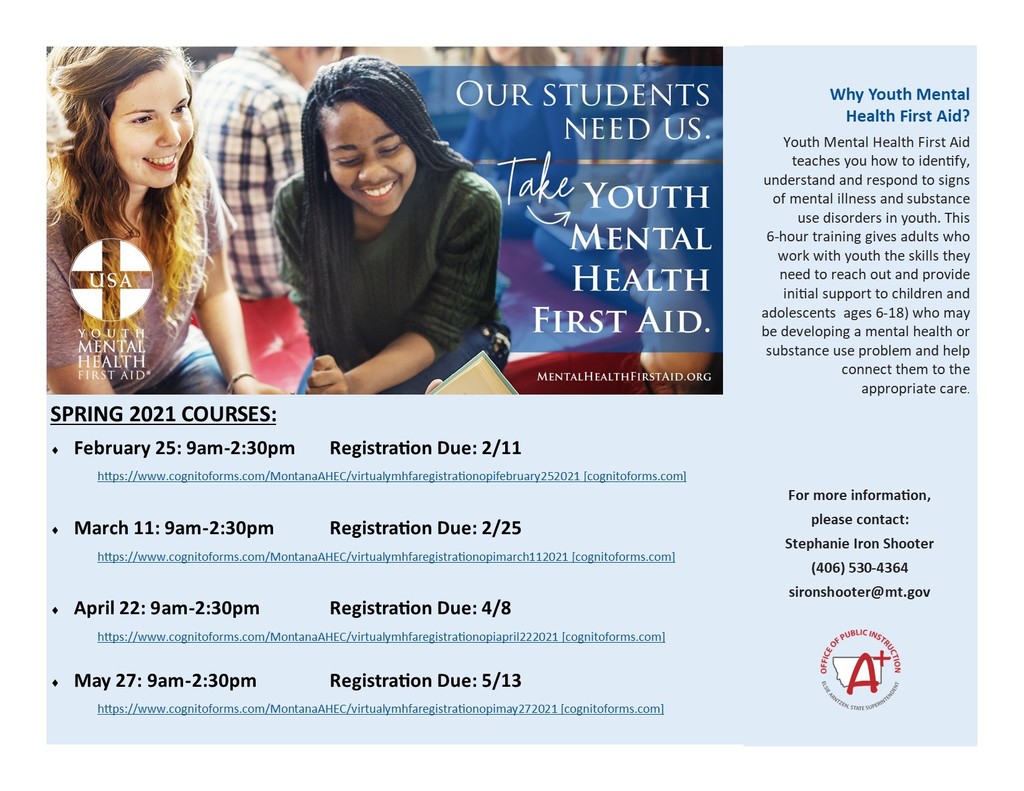 Interested in science? Northside is offering an after school program for 5th & 6th grade to get involved learning the 3 R's through art, dance, drama, and hands on activities. Reduce, Reuse and Recycle! Check out the flyer for more information. Click on the link:
https://5il.co/oyzn

Shout out to Northside teachers' Mr. A. Tumonong & Mr. R. Tumonong for obtaining a grant from the Montana Masonic Foundation Inc. for an after school program focusing on science/drama.



WOLVES FANS, Live stream option for all winter sports, starting today. Subscription required $10.99 a month. Go to our website for log in information at
www.wolfpointschools.org
. On-site fans, please mask up for safety, enjoy the games. NFHS Network Watch Your School's Events Live Live Events January 2, 2021 Your school will be LIVE on the NFHS Network today. Make sure to promote the broadcast to your fans: Here are the links to watch your events today on the NFHS Network: WOLF POINT HIGH SCHOOL | Wolf Point, MT Boys Junior varsity Basketball vs Dodson | 4:30 PM Mountain Girls Varsity Basketball vs Dodson | 5:30 PM Mountain Boys Varsity Basketball vs Dodson | 7:00 PM Mountain Have questions? Contact customer support
customersupport@nfhsnetwork.com
This email was sent by NFHS Network. Not a fan? Unsubscribe NFHS Network | 2990 Brandywine Rd Suite 300 | Atlanta, GA 30341

Notice: The district will no longer allow students to opt out through out the calendar after 12/14/20. The start of a new quarter or semester, the parent may have 2 weeks to decide to opt out if they have been on-site. If you do not opt out in that time frame, you will no longer be allowed to opt out. If you are a parent wanting to come back to on-site, you must wait until a new quarter or new semester. Thank you for complying with the district to make the grades and schedules smoother for all involved.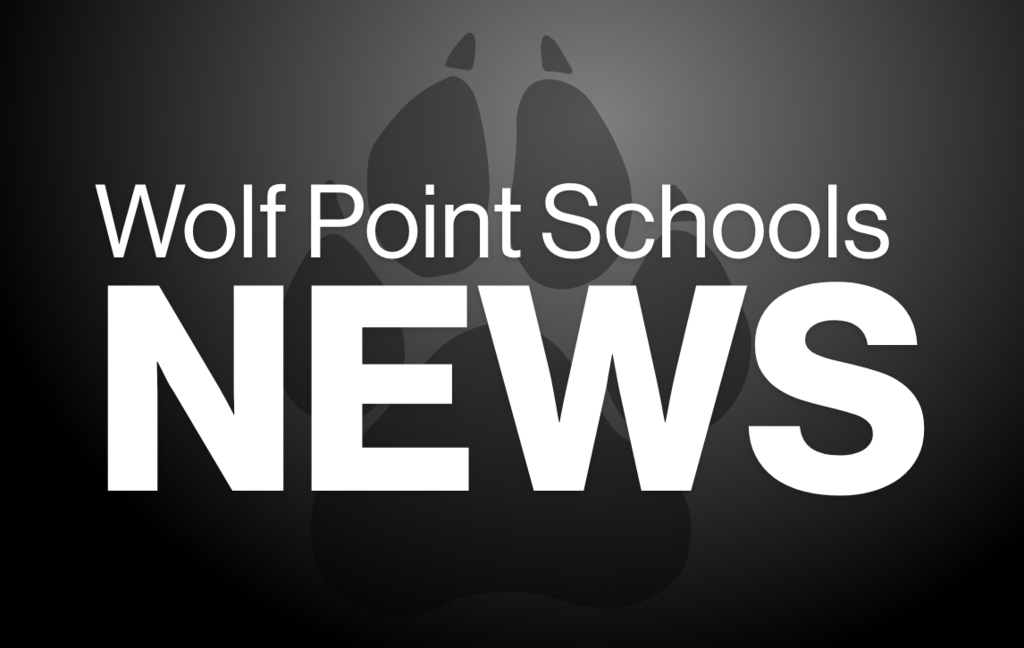 JOM Parent Meeting tonight at 5:00pm, please join! Ą́ba wašté Attached is the agenda for this evenings informal meeting. This will be an informal meeting since we are not officially recognized by the Fort Peck Tribes Education Department or Tribal Executive Board. Here is the Zoom link, hope to see you all at 5:00 p.m., please forward the link to anyone you believe may want to join, I don't have a complete list of all WPSD parents and guardians. Zoom link:
https://us02web.zoom.us/j/84215115516?pwd=RDN0QUZocHAzOEN2TGVFSk8zbE9vZz09
Meeting ID: 842 1511 5516 Passcode: 2Lze3T Michael Turcotte Native American Studies Department Fort Peck Community College 605 Indian Avenue Poplar, MT 59255 406.768.6384 (office) 406.230.1119 (cell)
www.fpcc.edu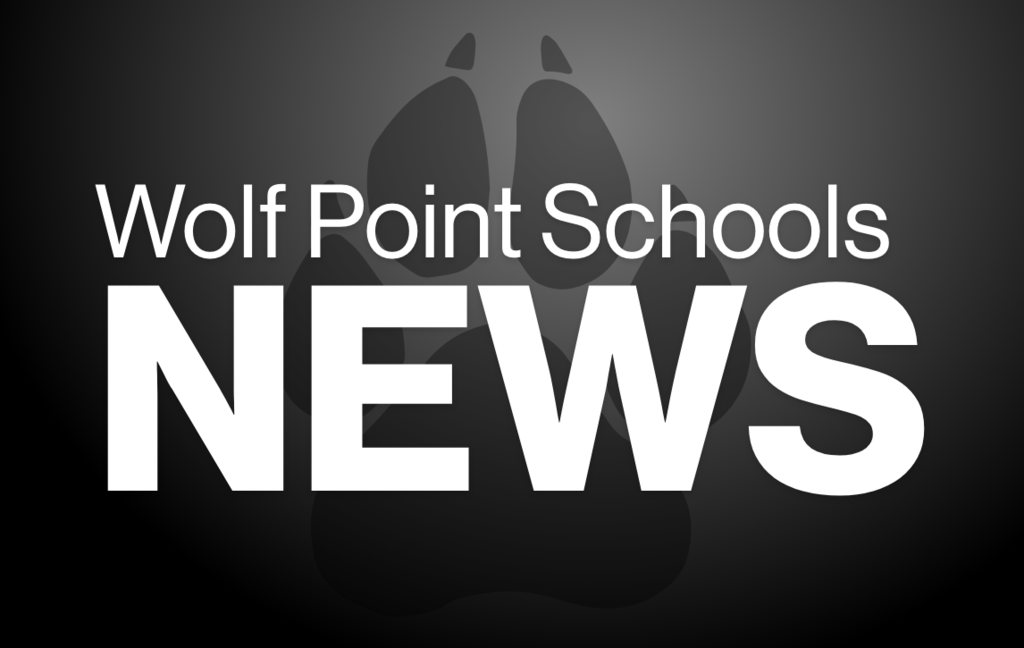 Anti Bullying Consultant, Will Henry was in Northside and High School today and presented to students and visited parents. Be sure to ask you students how it went!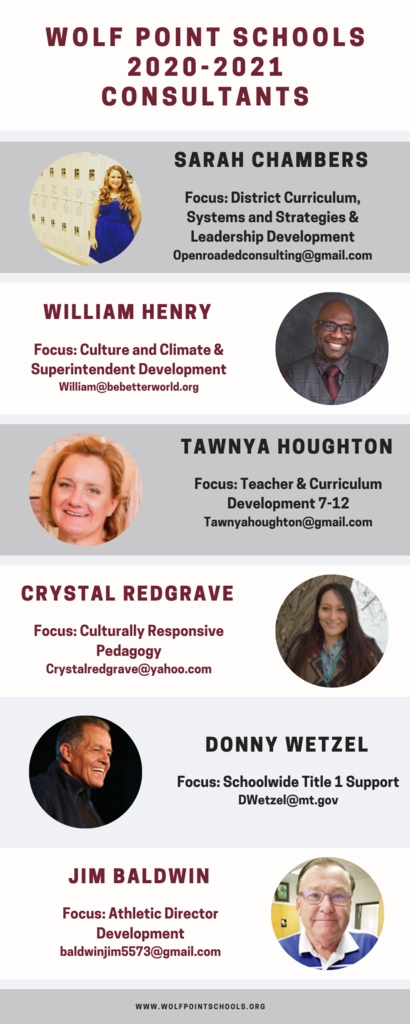 WPSD WPSD is inviting you to a scheduled Zoom meeting TONIGHT from 5-6pm. Topic: Title I Community Listening Session WP School District Time: Nov 24, 2020 05:00 PM Mountain Time (US and Canada) Join Zoom Meeting
https://zoom.us/j/96588756417?pwd=R1NFTllyRHpJSklXM05xVC9VbEZMdz09
Meeting ID: 965 8875 6417 Passcode: vuDW05 One tap mobile +12532158782,,96588756417#,,,,,,0#,,968102# US (Tacoma) +13462487799,,96588756417#,,,,,,0#,,968102# US (Houston) Dial by your location +1 253 215 8782 US (Tacoma) +1 346 248 7799 US (Houston) +1 669 900 9128 US (San Jose) +1 301 715 8592 US (Washington D.C) +1 312 626 6799 US (Chicago) +1 646 558 8656 US (New York) Meeting ID: 965 8875 6417 Passcode: 968102 Find your local number:
https://zoom.us/u/abjsFjwnCD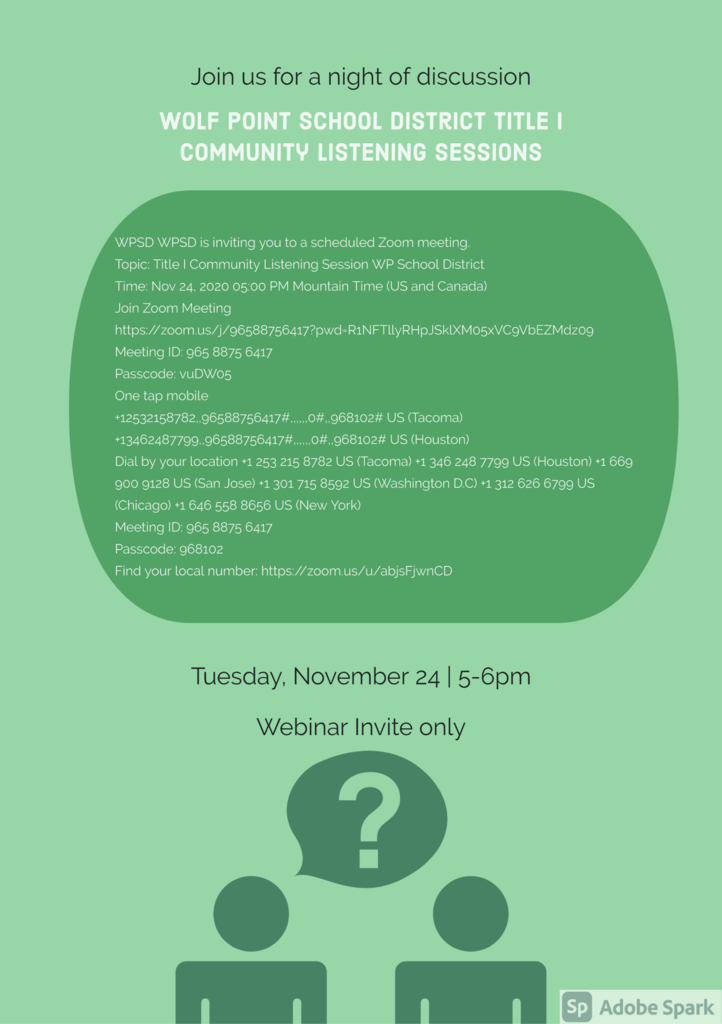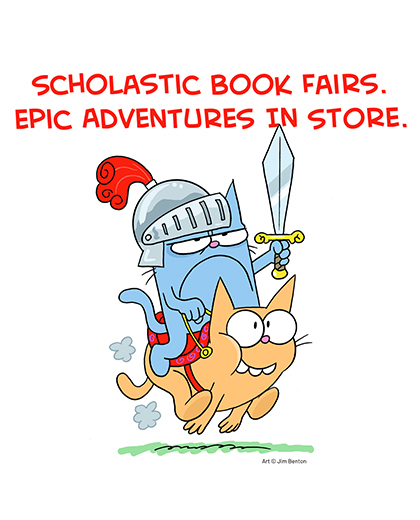 Reminder: Parent/Teacher Conference Monday & Tuesday November 9-10 from 4:30-7:30 in the building. Only 1 parent per child will be allowed to attend.
https://5il.co/mwhh

Southside Elementary update: The school will remain closed until Nov. 10. It will resume Wednesday Nov. 11 in Plan A. We are sorry for any inconvenience as we strive to maintain a safe environment for our students and staff.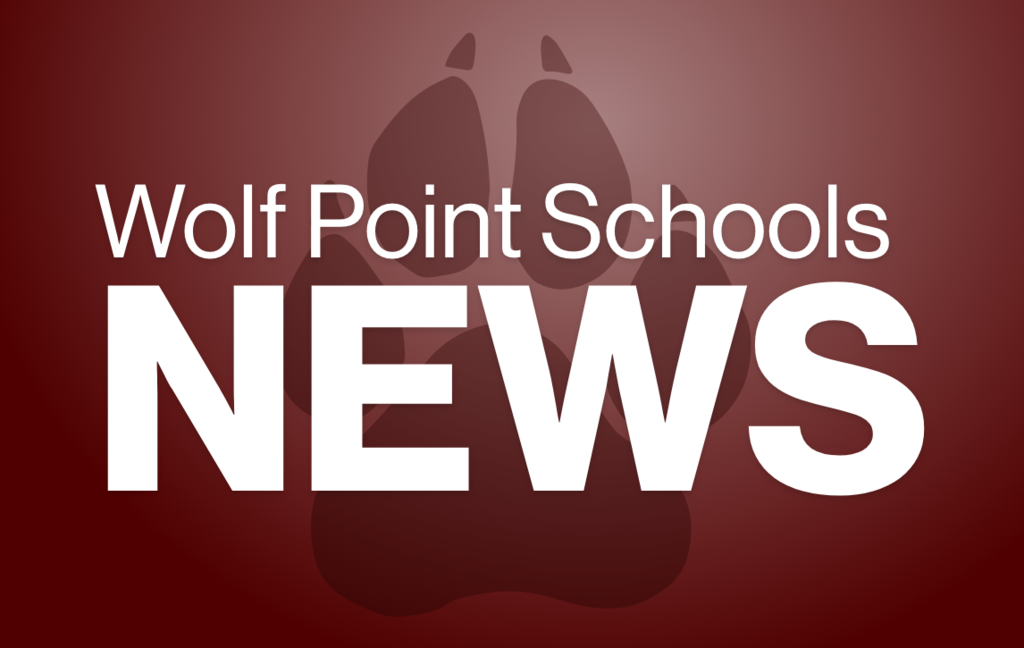 Ą́ba Wašt́e A special JOM meeting is called for Friday at 3:00 and adheres to the JOM By-Laws. Phone calls were made to IEC members two days in advance informing them of the meeting and topics. It will be a Zoom meeting to ensure social distancing. Below is the login information. Please be on time as we are limited to a 40 minute Zoom meeting. If everyone logs in at 3:00 and we adhere to the agenda, it is ample time to complete the meeting. As stated in the By-Laws, "no other items may be added or discussed during the Special meeting." It is unnecessary to conduct marathon meetings. Michael Turcotte is inviting you to a scheduled Zoom meeting. Join Zoom Meeting
https://us02web.zoom.us/j/85406404898?pwd=VGRtYU9iZ1NQRDBqeUlTeXVDOXdMdz09
Meeting ID: 854 0640 4898 Passcode: 6bWWiY Michael Turcotte

Northside is hosting an online Book Fair. Please be on the lookout for the live link, which will activate on November 9-22. All orders $25 or more will receive free shipping. "Reading is the passport to countless adventures."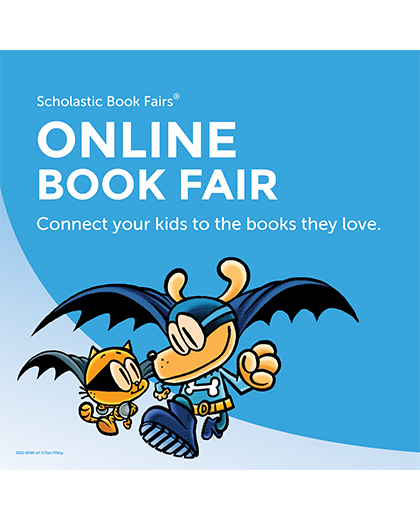 We will be running a cold weather bus starting Nov. 2.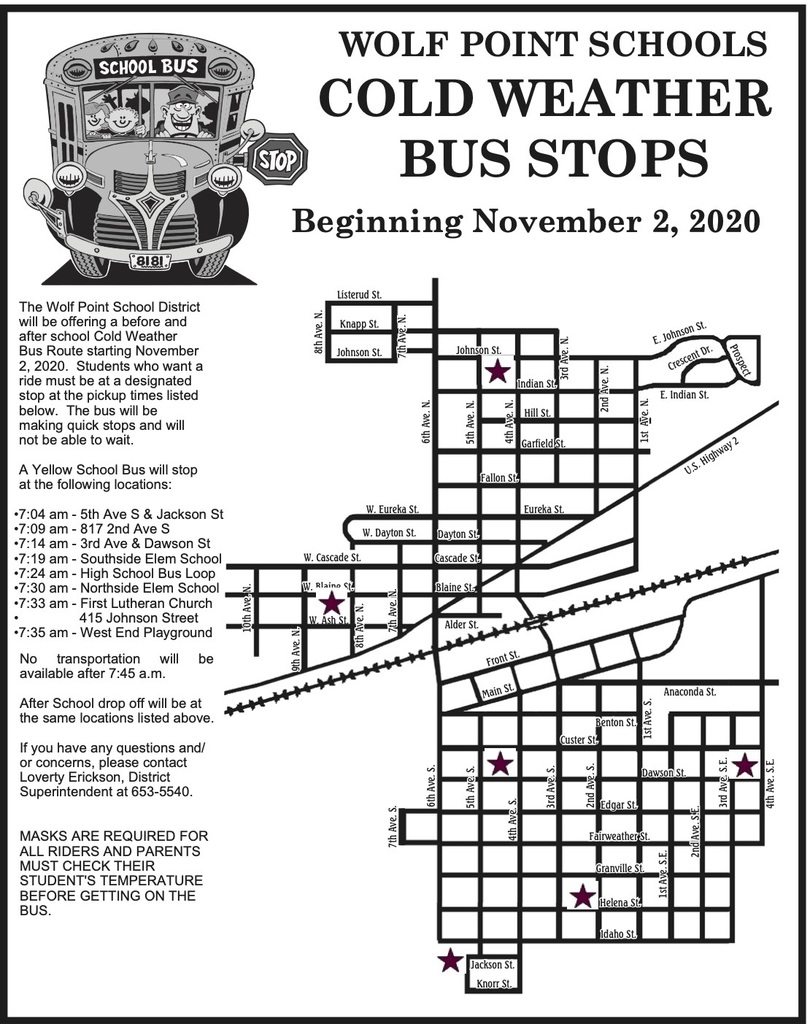 Local Health Officials approved the Wolf point school district to reopen 4 days a week  (Plan A) starting Nov. 2  If students in grade K-8 opted out and want to come back to the 4-day week (Plan A), they must register with the secretary this week.  Grades 9-12 will take opt-out students again at semester January 18th.   If you need more details contact the school immediately.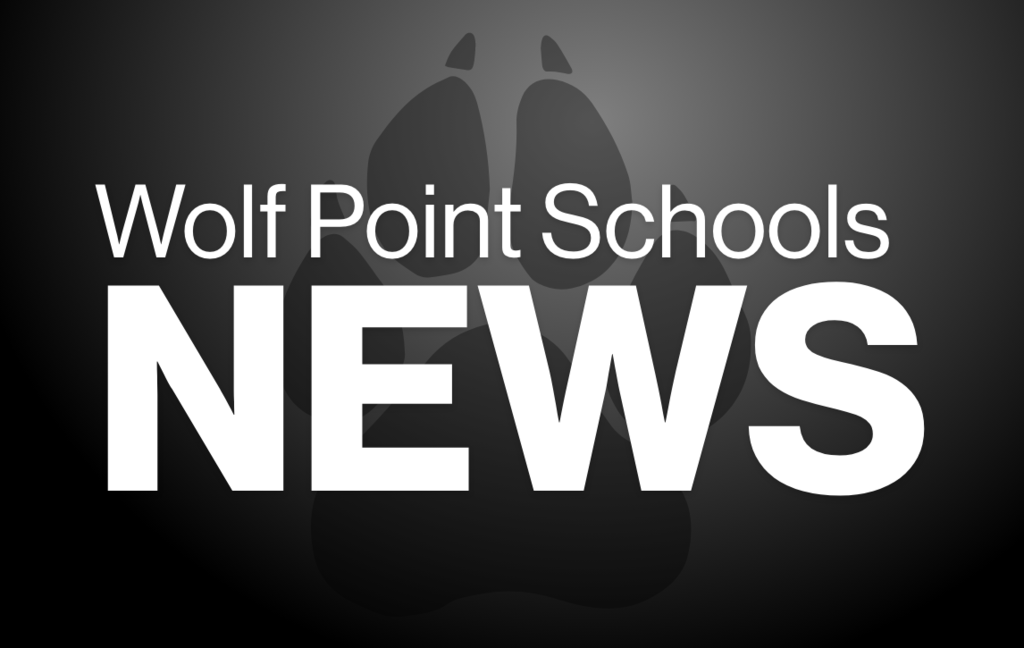 Wolf Point Cross Country Team finishes 4th place as a team!! Zander Ackerman is our 2020 State B Boys Cross Country Champion!! Ambe' Washte (thank you) to all the fans!