NO SCHOOL MONDAY Dress up Twos-day!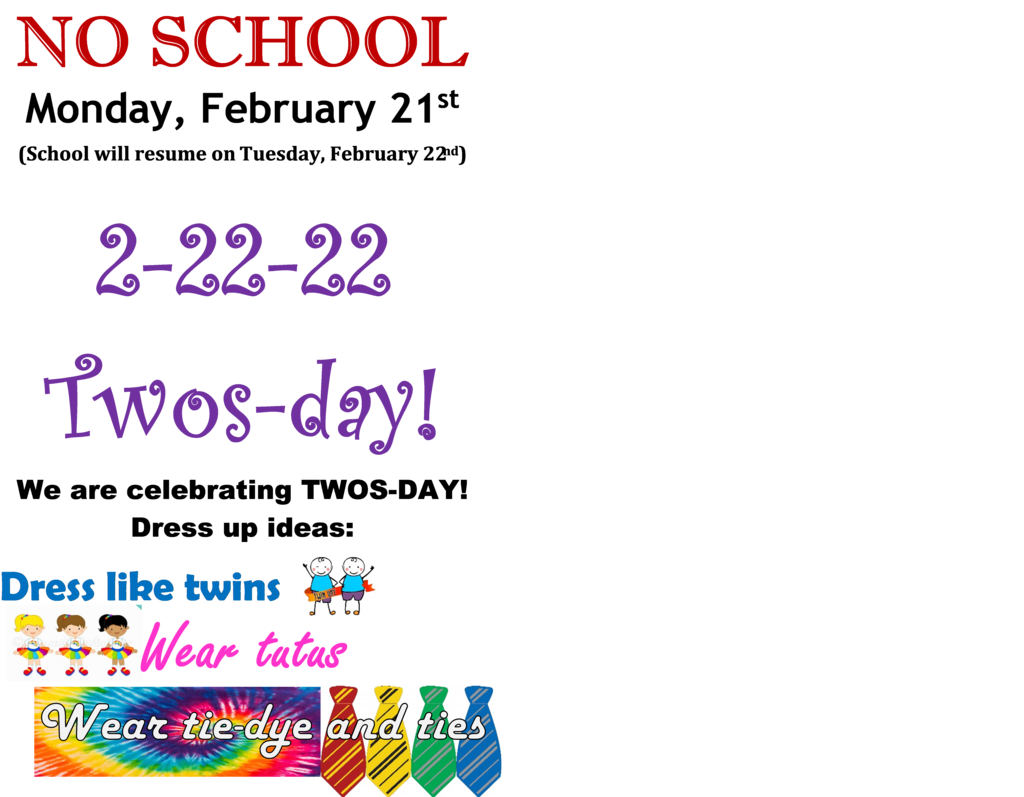 Northside Band Concert Today!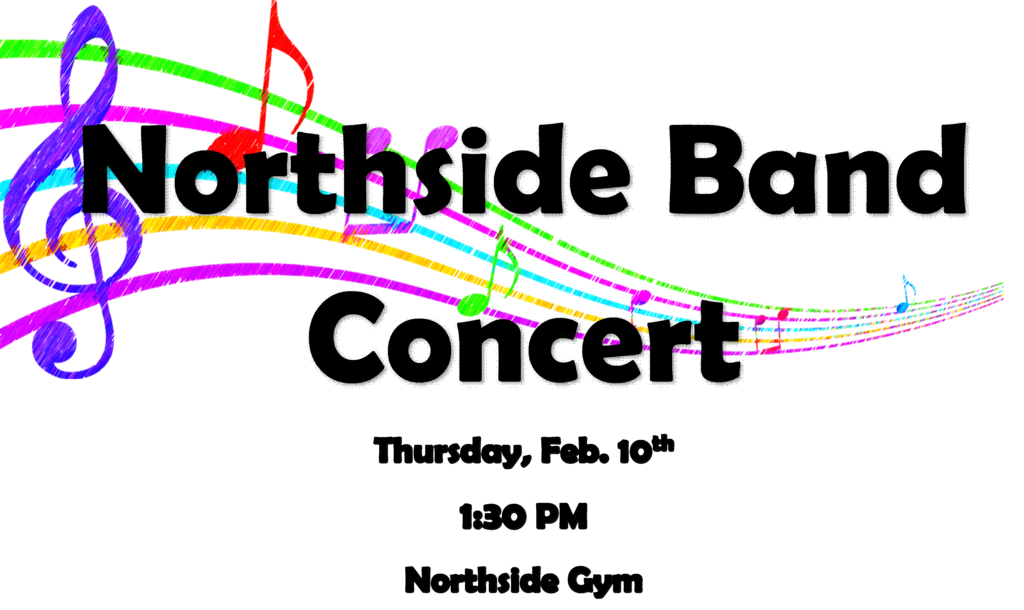 4th - 6th Grade Volleyball starts Tuesday, Feb. 15th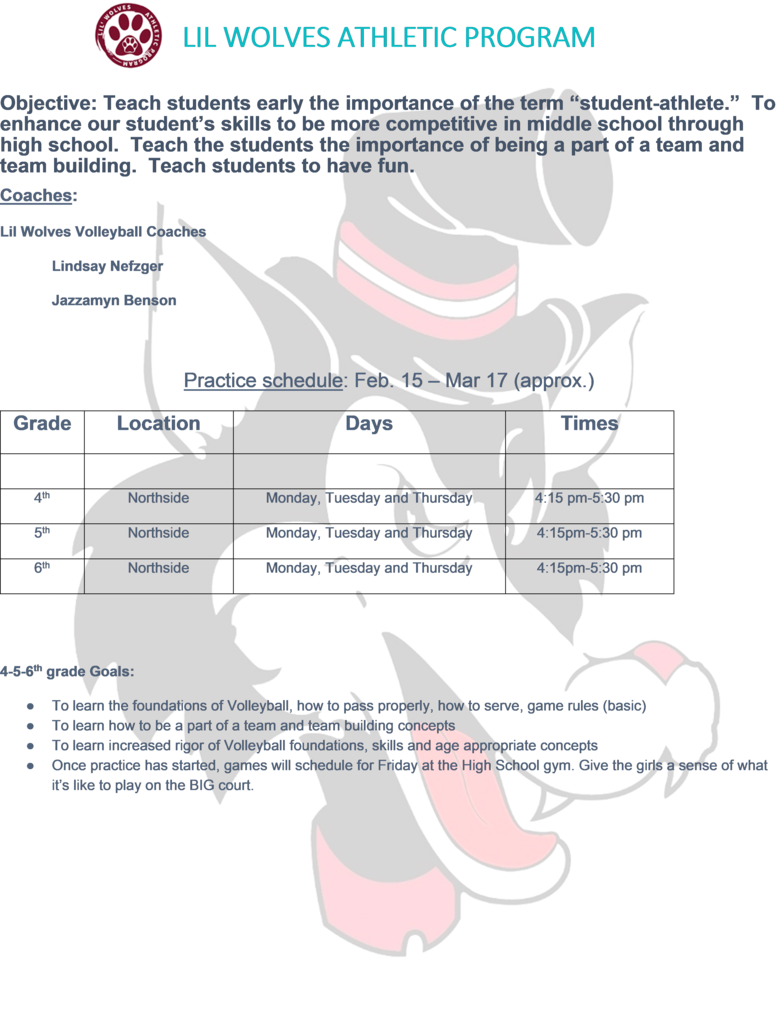 Indigenous Movie Night Feb. 23rd at 5:30 pm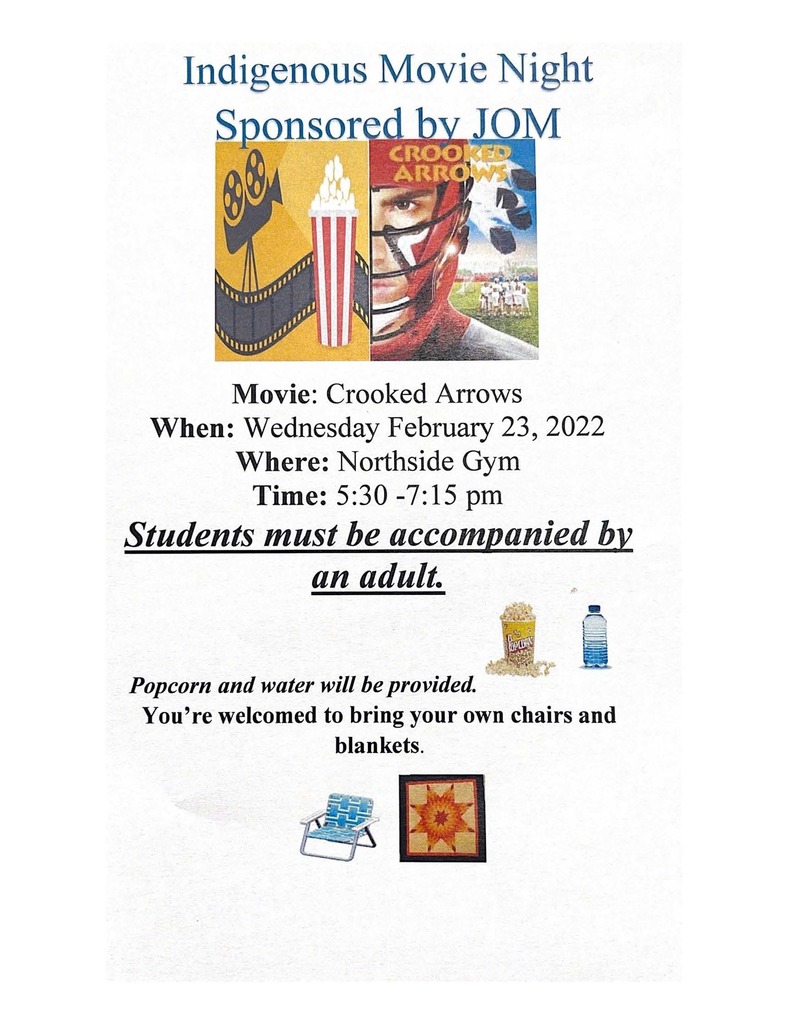 2nd COVID 19 & Flu Vaccine Clinic at Northside School Feb. 16, 2022.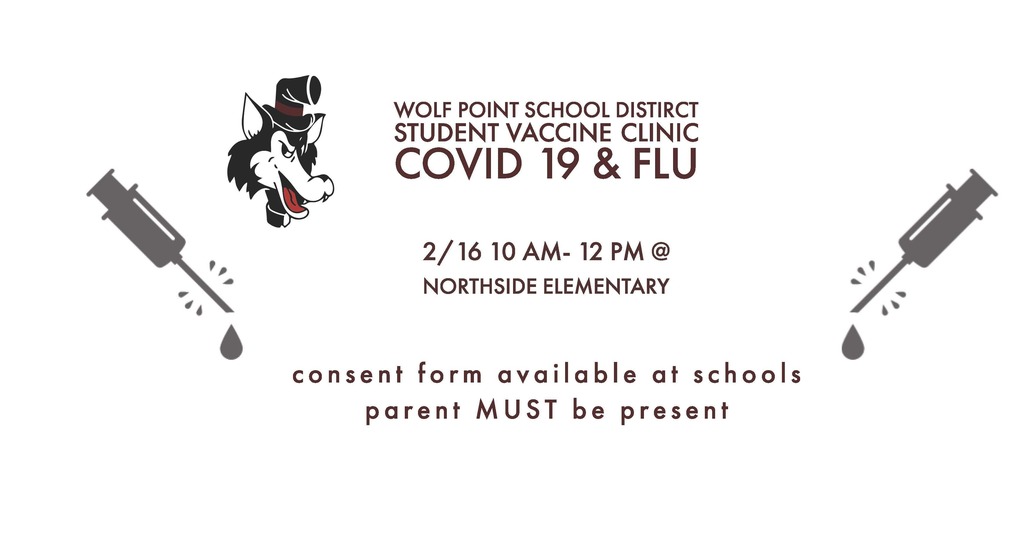 Friendly Reminder: Wolf Point School District JOM Parent Meeting TONIGHT (2/7/22) 5:30pm at the H.S. Library. Please come join us for a great time.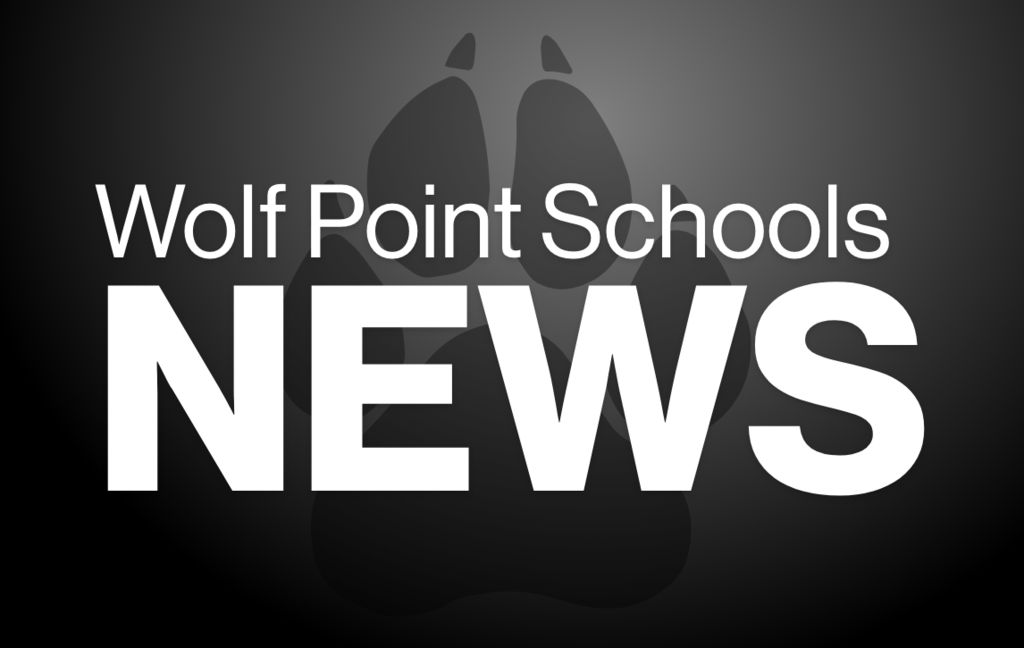 Today Wolf Point School District K-12 students & staff were treated to laughs and giggles while tackling a hard subject, bullying. They were taught to treat everyone like a friend and how re-empower themselves. Tonight ONE NIGHT ONLY 5:30 pm -6:45 pm at the High school Auditorium Anti-Bullying Comedian "Chris in the Classroom"! NO CHARGE, DOOR PRIZES! Join the conversation, bring your family & get ready to laugh.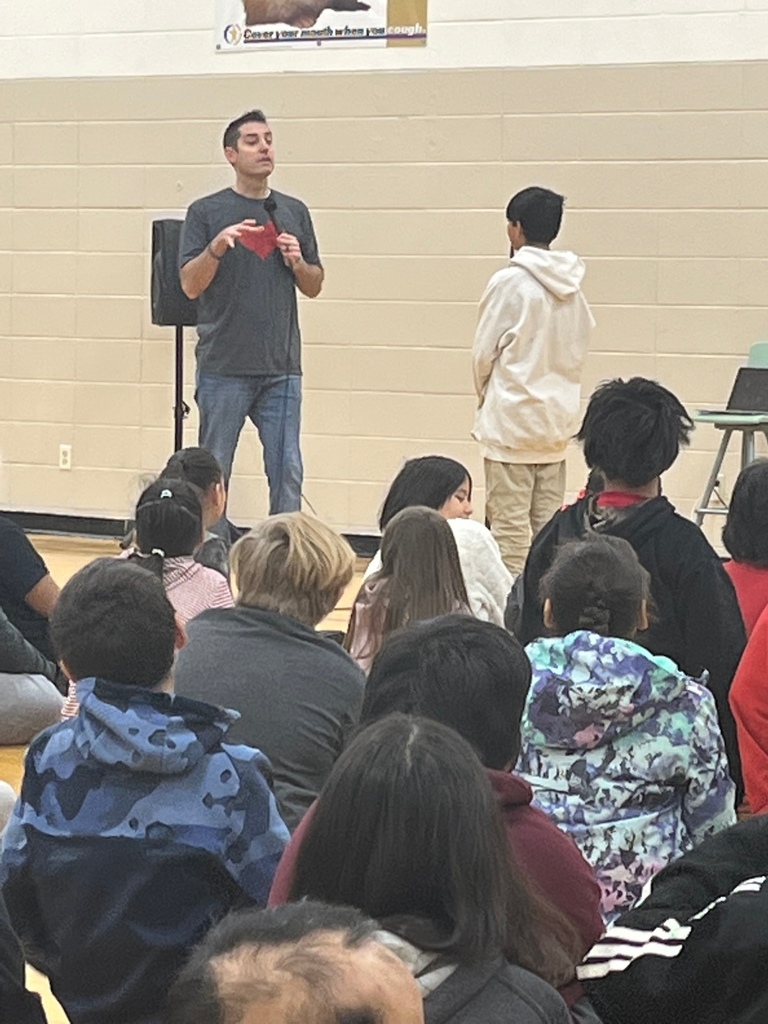 Wolf Point School District Student Vaccine Clinic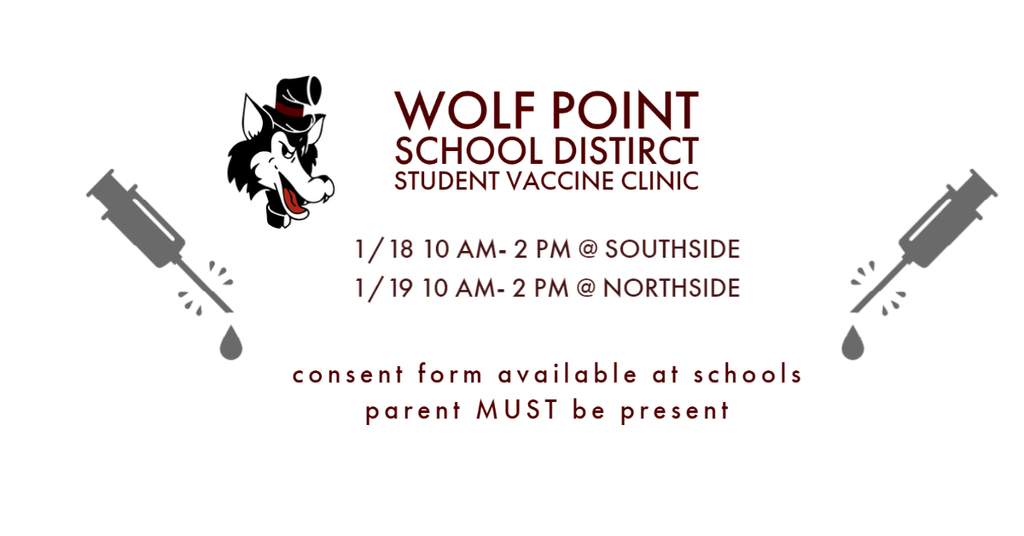 Please join the district for a night of comedy Wednesday, January 19, 2022 starting at 5:30-6:45. Enjoy a night out with the whole family!!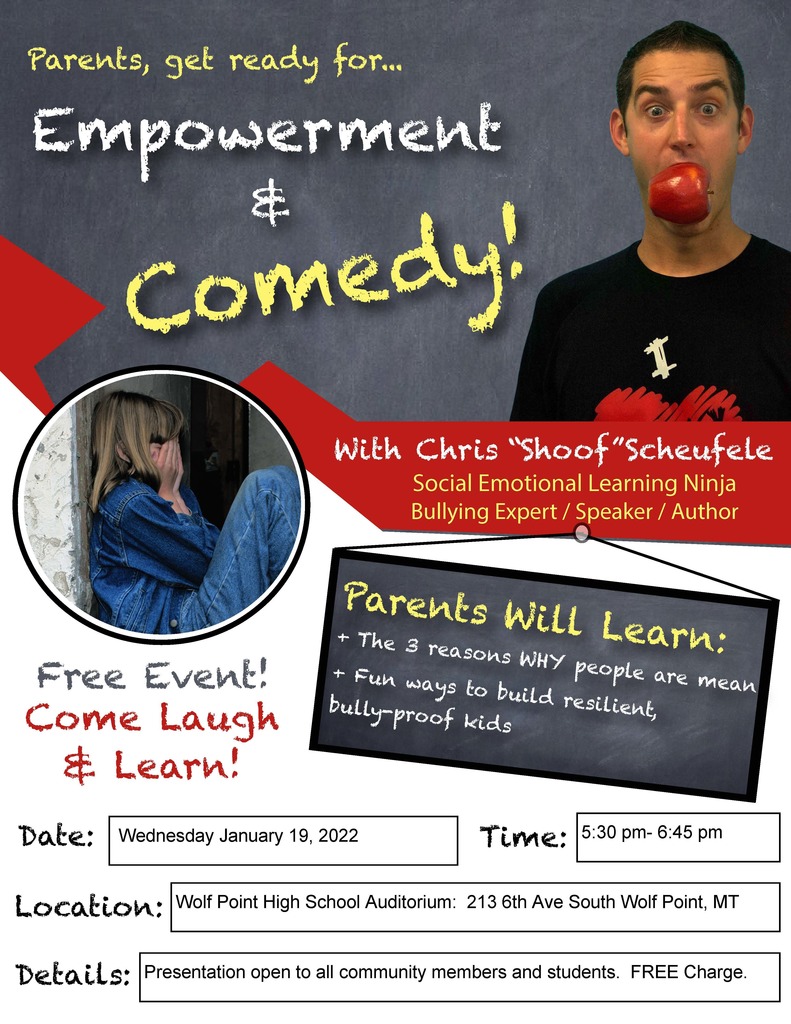 Presenting, "Chris in the Classroom", empowerment & comedy presenter! For the entire community, FREE of charge.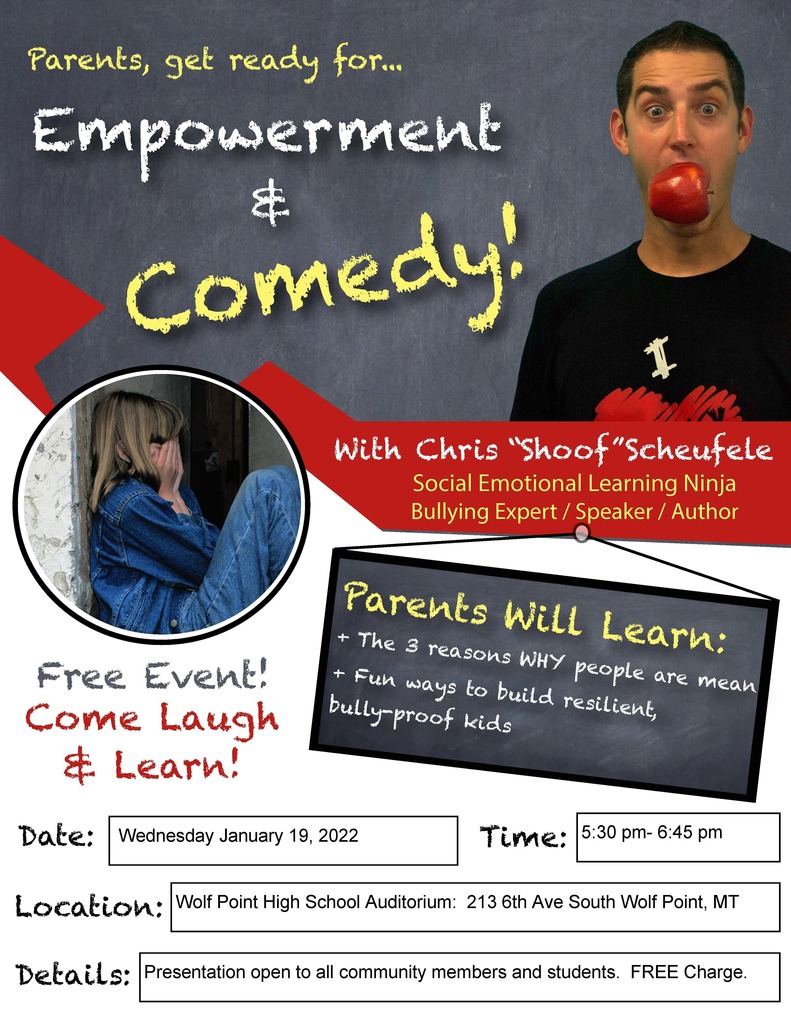 Come get your voucher to help buy PE shoes!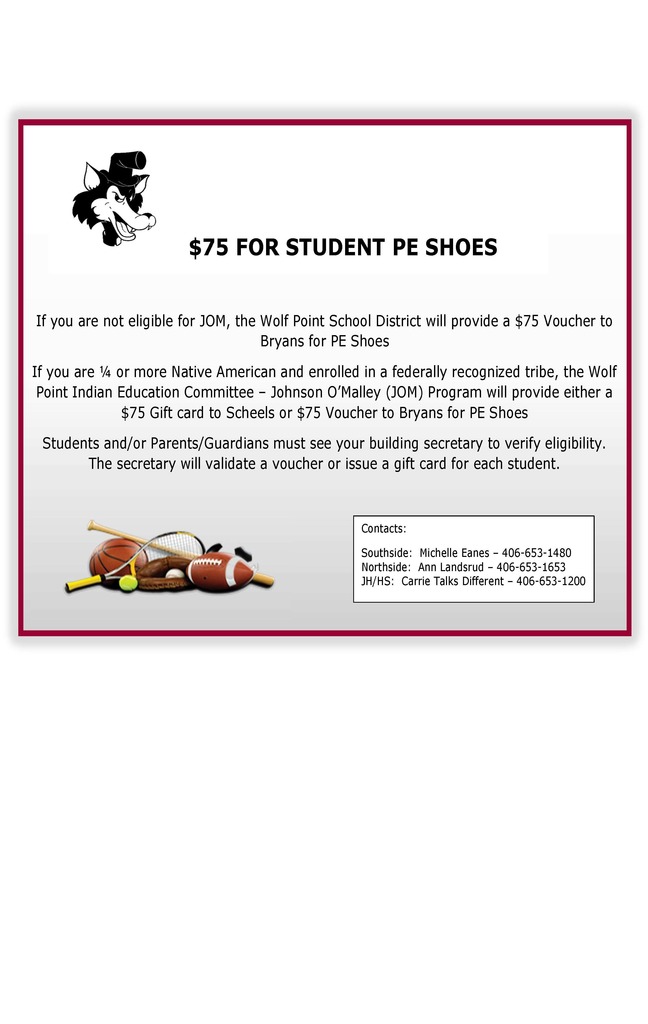 The Wolf Point School District will be having a late start at 9:00 a.m. tomorrow Thursday, January 6, 2022. Country and shuttle busses will be running an hour later as well.

Wolf Point JOM parent meeting in progress. Next meeting: Monday February 7, 5:30 p.m. at the high school library. Tonight's meeting focused on JOM JH/HS career fair presenters, parent teacher conference JOM booths, JOM website page and contents, Indigenous authors and books for the district. Great job JOM Committee.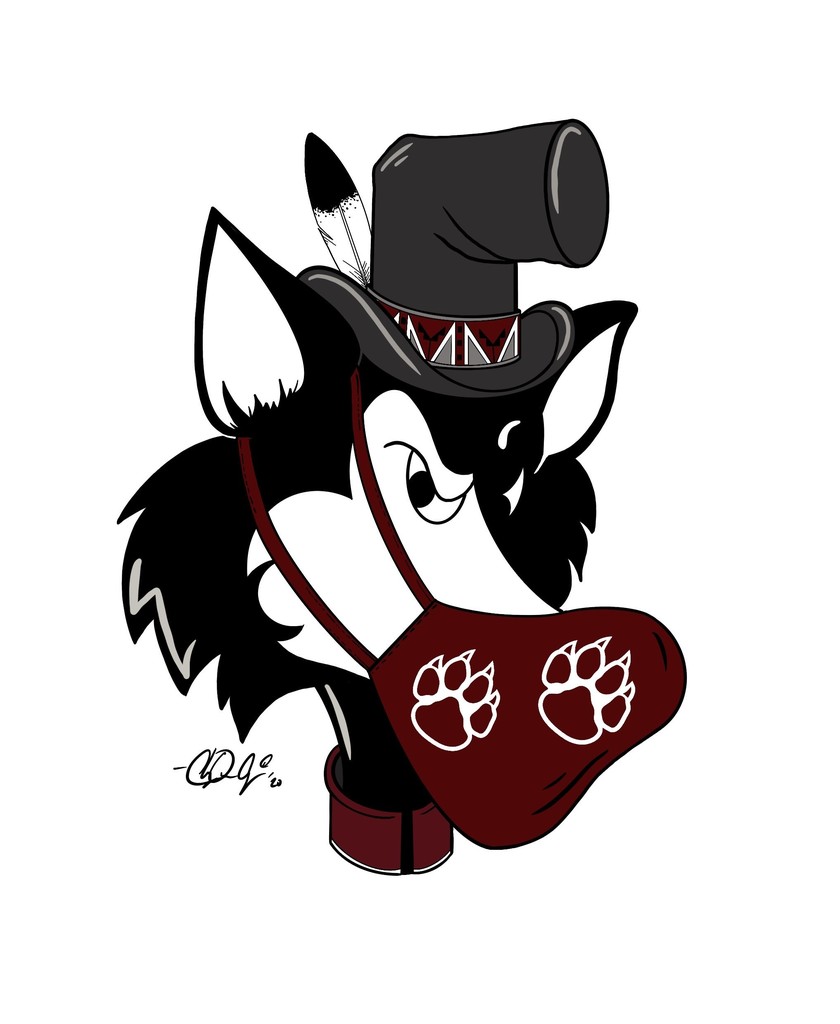 Please help our school Hello Parents, Today, your child is bringing home a Parent Information Envelope letting you know about a safe and easy way for our school to raise funds for essential tools our students and teachers need to succeed. The SchoolStore fundraiser is 100% online so there is NO face-to-face selling, handling money, or delivering products. Your participation will take less than 12 minutes, and there are exciting prizes to make it fun for the students. Here is all you need to do to participate: 1. Go to
https://www.schoolstore.net/sid.t?0000164559
to sign up. 2. Send form emails inviting family, friends and co-workers to support your child. 3. Return the Envelope with the Student Prize Code to school for your child to get their fun participation prize. Be sure to ask your child for the Parent Envelope tonight. Your participation will make a difference for our school and teachers! Thanks, Northside Elementary School


Wolf Point Jr/Sr High School will run a modified scheduled for Tuesday, January 4, 2022, due to a funeral in the gym. There will be NO morning classes or breakfast Lunch will be served from 12:25-12:55 for all students 7-12 Classes will begin at 1:00 p.m. Bus will run for the JH/HS beginning at 11:00 a.m. - at first stop at 11:10 a.m.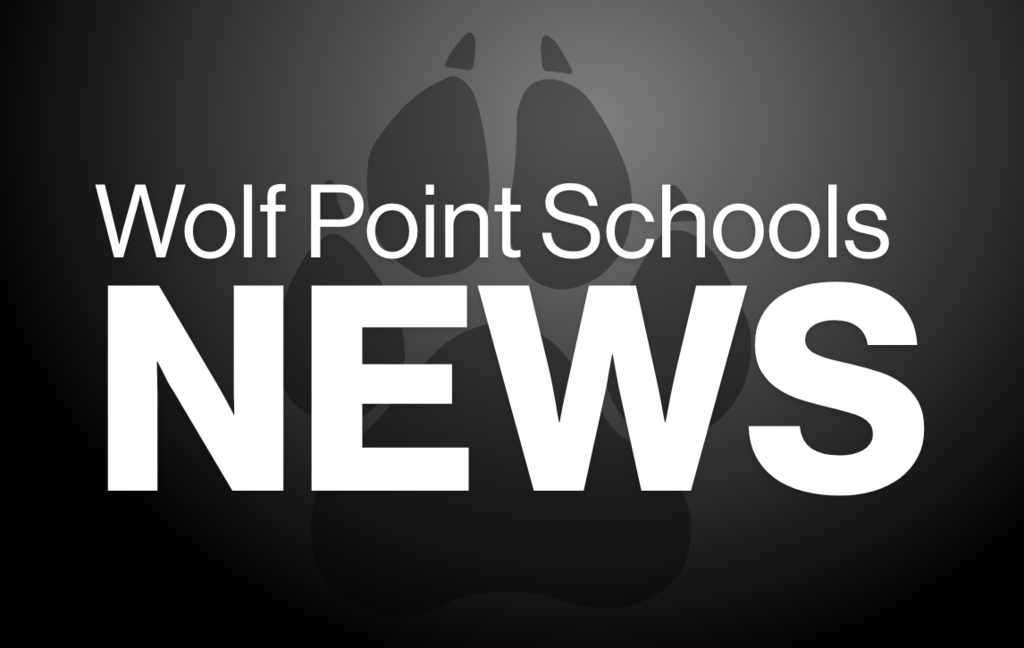 Full Day Wednesday Dec. 22 Return to School Jan. 3rd - 8 AM

RCHD 5 - 11 yr old Covid Vac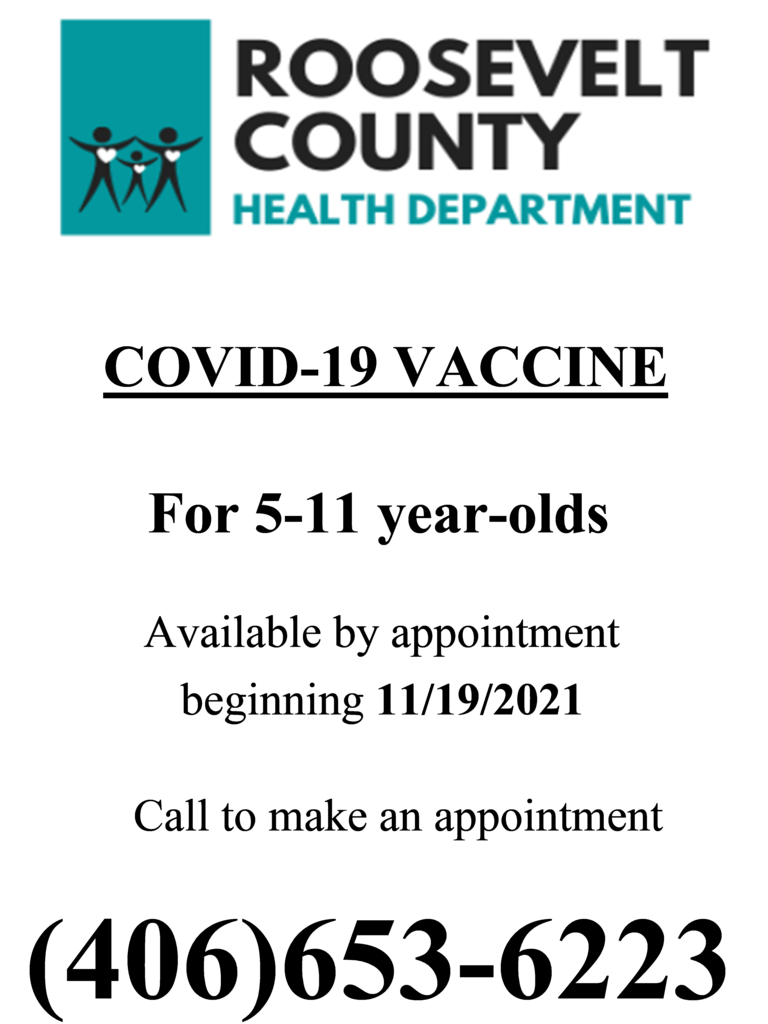 December 8 Pajama Day December 14 Mistle Toes: Wear your favorite cozy socks/slippers December 15 Ugly Sweater/ Christmas Sweater December 20 Cowgirl/boy Christmas: Wear your cowboy/girl attire, boots, jeans, and all the bling. December 22 Classroom Christmas Party last hour of day.

More Wolfy pictures at the Christmas Stroll!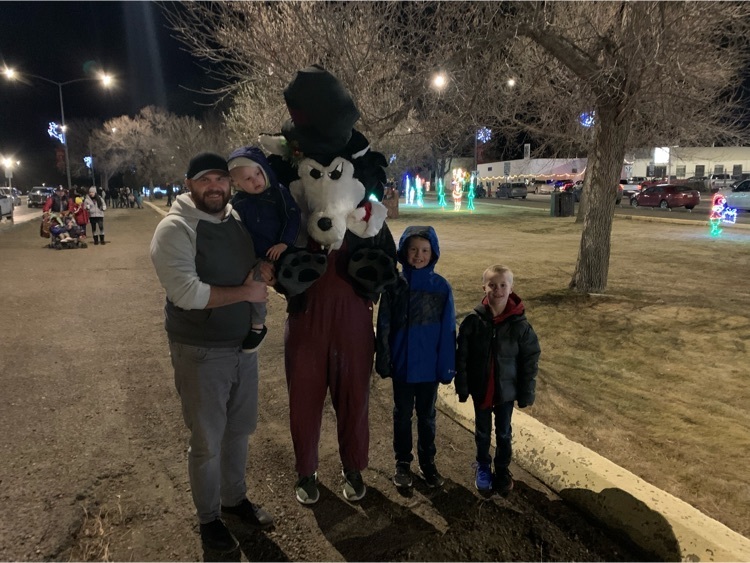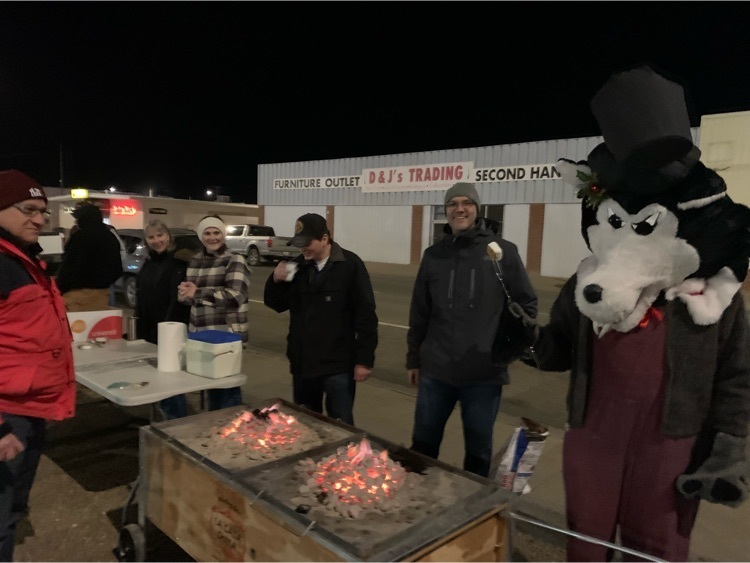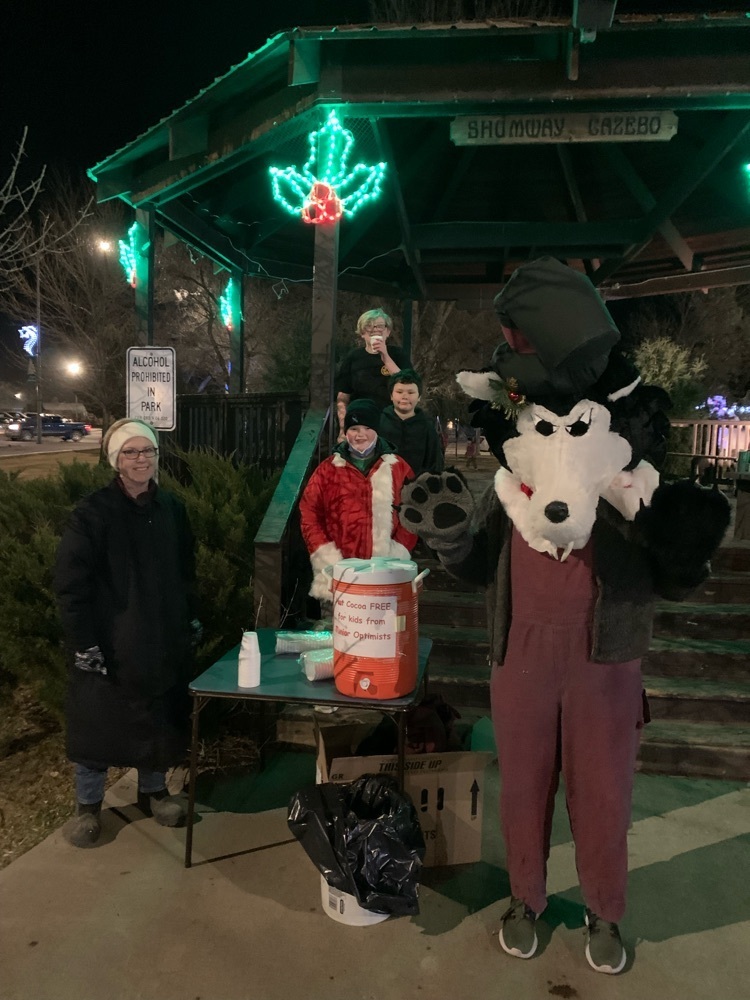 Come watch the Lil Wolves Basketball Team grades 3&4 during the halftime show, happening right now!!!