Results for the Lady Wolves track at Sidney invite. 200 Meters 4th Josie Kolstad 31.07 400 Meters 10th Joli Beston 1:26.94 1600 Meters 5th Joli Beston 7:08.76 100m Hurdles 5th Kylie Rodenberg 18.87 Shot Put 6th Katelyn MacDonald 28' 11 10th Haidyn Raining Bird 26' 9 23rd Ali Corpron 21' 8 24th Kaleah White Bear 21' 5 Discus 6th Haidyn Raining Bird 72' 1 16th Ali Corpron 51' 9 18th Kaleah White Bear 47' 9 Javelin 2nd Katelyn MacDonald 105' 5 4th Josie Kolstad 95' 0 16th Ali Corpron 49' 8 19th Kaleah White Bear 42' 8 Long Jump 9th Kylie Rodenberg 14' 1.5 12th Azalei Ackerman 12' 9.75 Triple Jump 6th Kylie Rodenberg 28' 5 9th Azalei Ackerman 26' 6

Results for Wolves Track at Sidney invite. Boys finished 5th 400 Meters 3rd Kraven Silk 56.10PR 1600 Meters 2nd Kholby SpottedWolf 5:05.56 3200 Meters 1st Peyton Summers 10:17.91 2nd Ethan Blount 10:27.94 Shot Put 30th Logan Wolff 22' 2 PR 31st Joey Blount-Jones 19' 0.5 Discus 20th Logan Wolff 46' 0 21st Joey Blount-Jones 38' 10 PR

Results from Gene Nelson invite in Wolf Point. Lady Wolves finished 4th overall with 51 points. 100 Meters 3. 10 Kylie Rodenberg 14.26a 400 Meters 7. 12 Josie Kolstad 1:09.26 PR 1600 Meters 6. 10 Joli Beston 7:40.68 100m Hurdles 2. 10 Kylie Rodenberg 18.60 PR Shot Put 4. 11 Katelyn MacDonald. 28-11.00 12. 12 Haidyn Raining Bird. 25-05.50 15. 9 Ali Corpron 24-00.00 23. 9 Kaleah White Bear 20-10.50 Discus 11. 12 Haidyn Raining Bird. 71-10 20. 9 Ali Corpron 55-09 21. 9 Kaleah White Bear 55-08 Javelin 1. 11 Katelyn MacDonald. 110-06 4. 12 Josie Kolstad 91-10 12. 10 Adeia Erickson 81-07 PR 27. 9 Ali Corpron 54-0 28. 9 Kaleah White Bear 53-02 PR Long Jump 2. 10 Kylie Rodenberg 14-07.00 9. 10 Azalei Ackerman 12-05.00 10. 10 Adeia Erickson 12-04.50 Triple Jump 3. 10 Kylie Rodenberg 28-05.75 4. 10 Azalei Ackerman 27-00.50 PR

Results from Gene Nelson invite in Wolf Point. Boys finished 3rd overall with 83 points. 100 Meters 2. 10 Maddox Reum 11.77 PR 14. 11 Kelby Bauer 13.51 200 Meters 2. 10 Maddox Reum 23.80 PR 3. 11 Kraven Silk 23.94 PR 800 Meters 3. 10 Peyton Summers 2:09.86 PR 5. 12 Ethan Blount 2:14.82 1600 Meters 1. 10 Peyton Summers. 4:40.49 2. 12 Ethan Blount 4:42.72 3200 Meters 1. 12 Kholby SpottedWolf. 10:55.11 Shot Put 1. 12 Mason Garfield 43-01.00 6. 12 Russell Turcotte 36-07.50 7. 12 Devon Yellowrobe 36-00.00 12. 12 Shastin Damon 34-00.50 31. 9 Joey Blount-Jones 20-08.50 PR 32. 9 Logan Wolff 19-11.50 Discus 2. 12 Mason Garfield 119-08 PR 9. 12 Devon Yellowrobe 97-06 10. 12 Shastin Damon 97-02 PR 17. 12 Russell Turcotte 84-02 PR 36. 9 Logan Wolff 42-01 37. 9 Joey Blount-Jones 38-04 PR Javelin 3. 12 Mason Garfield 124-05 SR 18. 12 Russell Turcotte 87-06 34. 9 Logan Wolff 30-08

Results from Glasgow Invite Results; Boys team 2nd place Trevin Boysun 8th Gaige Bushman 9th Aiden Prichard 12th Logan Bushman 14th Ryver Summers 9th Good job Wolves golfers!

This Friday May 6th, WPHS is hosting the annual Gene Nelson Track meet, starting at 12pm. I am needing some help; 1 person to help with the Computer Help run an event or be a helper at an event. If you know somebody that would like to help send them my way. Eric Peterson, AD

Here is a list of Wolves track athletes who qualified for Top 10 at Glasgow; Maddox Reum - 200m Ethan Blount - 1600, 3200 Peyton Summers - 1600, 3200 Mason Garfield - Shot Put Katelyn MacDonald - Javelin & Shot Put Josie Kolstad - Javelin Kholby Spotted Wolf qualified in the 1600, & 3200 but withdrew due to an injury. Top 10 takes place Tuesday May 3rd in Glasgow. Field events start at 3pm, running events start at 4:15pm. Good Luck Wolves!!!

Results from Great Falls - Fairfield/Belt Invite 1600 Ethan Blount 4:41 1st place Peyton Summers 4:54 5th place 3200 Peyton Summers 10:08 1st place Ethan Blount 10:20 2nd place Girls Shot Put Katelyn MacDonald 32'5" 4th Girls javelin Katelyn MacDonald 109'3 3rd Great competition today as there was 38 teams & over 900 athletes competing. Keep doing work Wolves!

Beautiful day on the golf course. Wolf Point held its annual invitational. Here are the results. Girls Ryver Summers 14th Boys Trevin Boysun 15th Abel Garfield 20th Gaige Bushman 21st Aiden Prichard 25th Logan Bushman 28th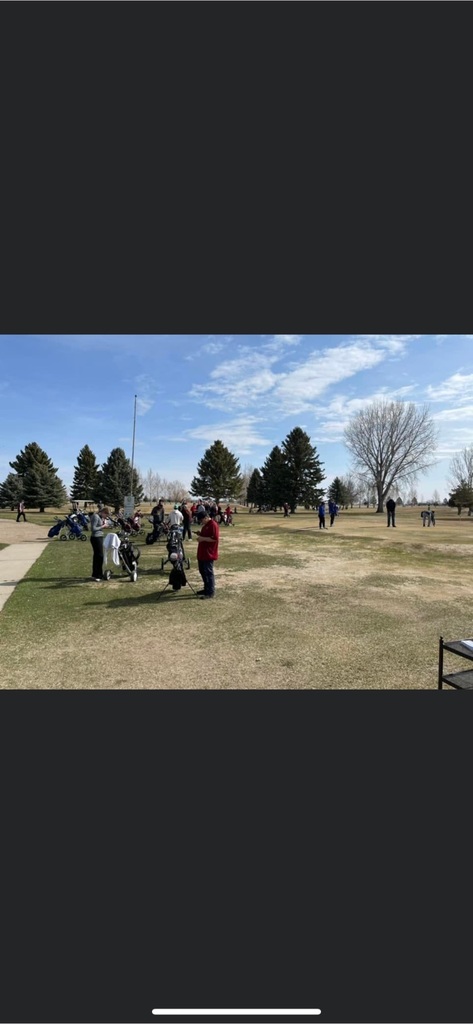 UPDATE HS GOLF at Glasgow Invite Friday April 29 has been postponed to May 6th.

Results from District Music Festival held at Wolf Point High School. Band: Got a 1 and a 2 from the adjudicators. Average Score, 2 Choir: 1 Vocal Trio (Alex MacDonald, Daniel Sears, Rebekah Landsrud) 1, got a perfect score. Women's Choir: 2 Men's Choir: 1 Rebekah Landsrud Vocal Solo: 1 Rebekah Landsrud Clarinet Solo: 1 Daniel Sears Bari Sax Solo: 1 Alexander MacDonald French Horn Solo: 2 Aaron Boysun Snare Drum Solo: 2 Jerome Four Star Clarinet Solo: 2 Ryver Summers Trumpet Solo: 3 Good Job Wolves Music Dept. !

UPDATE HS TRACK will be attending the Glendive Elks Invitational Thursday April 28. JH TRACK at Fairview Saturday April 30 has been CANCELLED. JH Track will be attending Malta invite Saturday April 30. Will keep you informed on any other changes.

WEDNESDAY APRIL 27th, 2022 6:30-8:00pm @ WPHS Auditorium Did you know during the last decade the youth using devices for 3 or more hours a day increased in 2007 at 38.4% to 2021 to 71.8%? The district deals with online bullying on an average of 2-4 times a month. This presentation is for the community to learn about how to keep everyone safer online. Come join us for an informative meeting.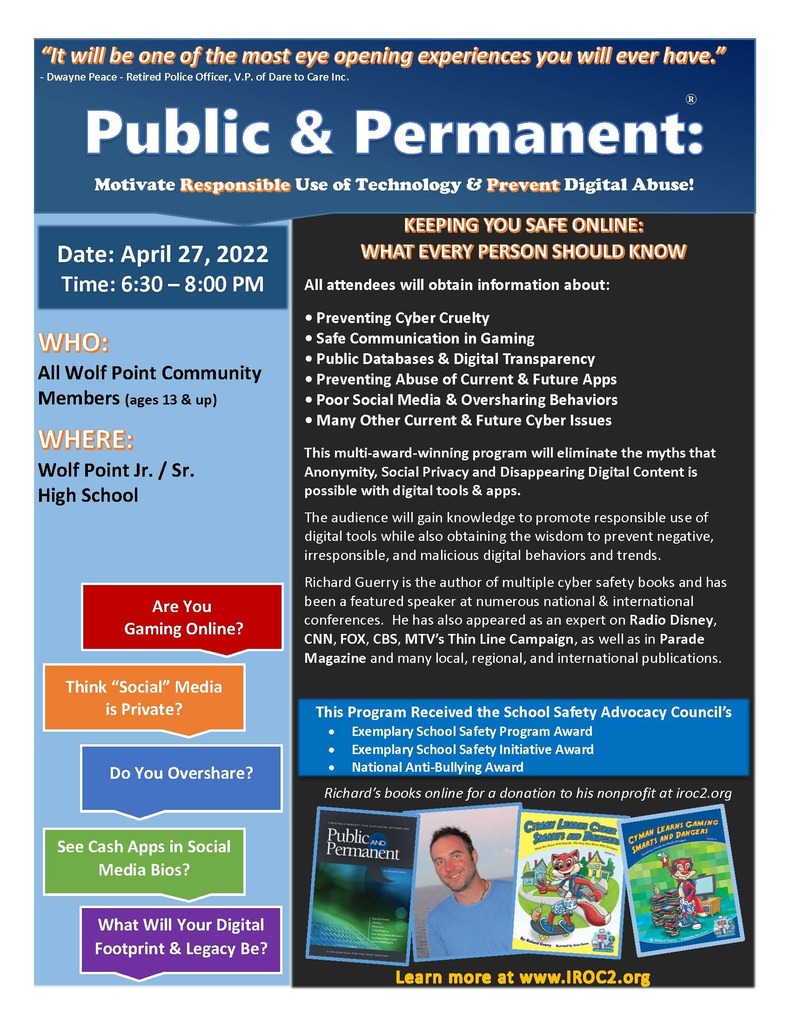 UPDATE HS-TRACK at Sidney, Tuesday has been cancelled. HS-Track at Wolf Point, Thursday has been cancelled. HS-Tennis at Miles City, Tuesday is still on. HS-Golf at Wolf Point invite, Wednesday is on. HS-Golf at Glasgow Invite, Friday is still on. HS-Golf at Malta Invite, Saturday is still on. HS-Tennis at Helena, Friday & Saturday is still on. HS-Track at Great Falls, Saturday is still on. JH-Track at Fairview, Saturday is still on. Meets/Invites are subject to change due to the weather. Will update as needed.

Wolf Point Schools Public Hearing Monday, April 25, 2022 5:30 p.m. Wolf Point Jr/Sr High School Multi-Purpose Room Chili and Frybread will be served. The draft Title VI application, the annual participation assessment, and the Impact Aid application will be available for review with an opportunity to comment. Information will also be available on the Title Schoolwide program. You are cordially invited to attend. Following the Public Hearing, the Title VI Wolf Point Parent Committee (WPPC) meeting will be held to review and the possible approval for the Title VI Part II application. Should you have any questions, please feel free to call the District Office at 406-653-5542.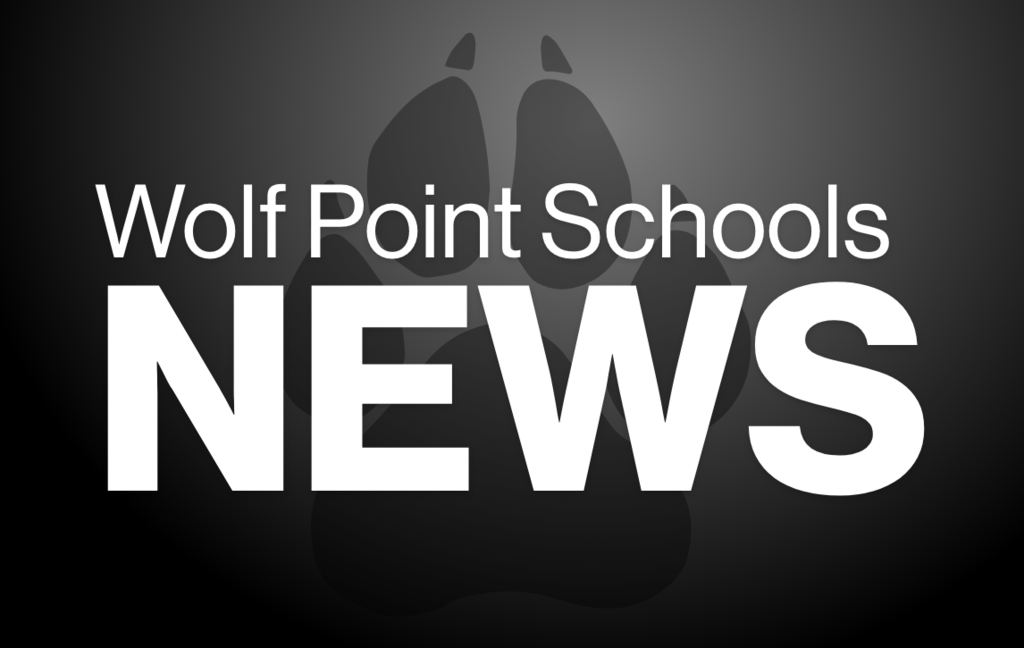 Community Listening Session, Wednesday April 27, 2022 at Northside Elementary.

HS GOLF - WOLF POINT INVITE SCHEDULED FOR THIS THURSDAY APRIL 21st, HAS BEEN POSTPONED TO APRIL 27th WEDNESDAY. WEATHER PERMITTING.

HS TRACK AT SIDNEY THIS SATURDAY APRIL 23rd. HAS BEEN POSTPONED TO A LATER DATE.

Wolf Point High School is hosting the Regional High School District Music Festival Friday 4/22 and Saturday 4/23. We are looking for volunteers to contribute to the Hospitality Room - baked goods, snacks, etc. Please contact Kim Hanks at WPHS if you are able to help out. Thank you in advance!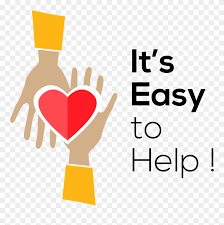 The Glasgow Middle School Track Invitational scheduled for this Friday has been cancelled.